Reserved RV Parking Information
The Orange RV Lot is located near the wooden rollercoaster on 5th Street. The Green RV Lot is located on the south end of the facility, off 5th Street and 15 Avenue (across from the Green Gate). You may enter the lot anytime during the day that you are scheduled to arrive. Check in with the RV host (if available), then park in any available space and display your yellow reservation form in the front window of your RV.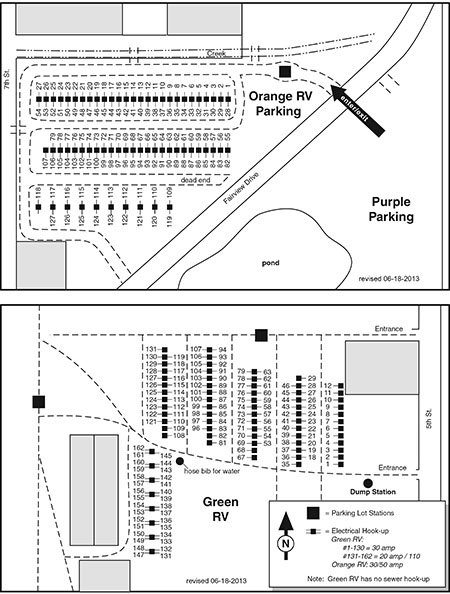 RV spots are first-come, first-serve. You may not reserve specific spaces.

No tent camping.

All RVs must be self-contained. No restroom facilities are available.

Pets must be kept on a leash at all times. Clean up after your pet.

Garbage must be deposited in the appropriate dumpsters and not be left around the outside of the RV.

No dumping or dripping of gray or black water except in the appropriate sewer hookup. ($500 fine per occurrence.)

Personal items left outside the RV must be kept tidy and within your assigned space at all times.

Driving speed limits are 5 MPH.

You are expected to be considerate at all times to others in the lot as well as our neighbors. Absolutely no loud or disruptive noise after 10pm.

Any RV or vehicle left in the parking lot after the designated registration time will be towed at the vehicle owner's expense. You must have a current WWF registration form in your window at all times.

Check-out time is 1pm unless prior arrangements have been made.

In inclement weather, water will be turned off and there will be no adjustment made to RV rate.

This is not a long-term RV lot. We reserve the right to limit the stay of any camper in the lot, for facility need.

If you do not follow the above rules, you will be asked to leave the parking lot and you will forfeit any RV payments.